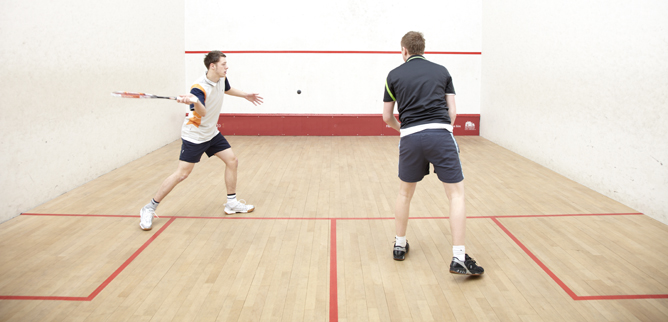 Looking back is never useful unless there is an opportunity to learn from what's behind you.
I'll embellish this deep thought with an example from a squash (the racquet sport I play, not the gourd). After making a shot and sending your opponent to the back corners, you have a few options.
Stare at the wall in front of you and wait for the return shot, in which case you'll be unprepared and won't know where the ball will land.
A glance at what your opponent is doing in the corner allows you to move and counter. You then might get to enjoy watching your opponent struggle to dig your return out of the corner.
If you choose not to look back, you might end up getting in the way of your opponent's shot. Trust me, getting hit by a squash ball will leave a painful mark.
I find myself looking back a lot, figuratively speaking.
Maybe that's why I never sit with my back to the door in any room, not entirely unlike John Wick. But it's not because I'm afraid of a highly skilled ninja assassin eliminating me, but rather that I always want to see what's coming and know where I've been.
I've lived through too many uncertain times as an immigrant kid leaving home on his own at the age of 19 with Crohn's Disease to move to the UK and eventually Canada, looking for a place to plant his roots and make something of himself. A modicum of certainty, then, becomes a godsend. But if working in marketing has taught me anything it's that maybe certainty isn't all it's cracked up to be and that sometimes you have to embrace your ambivalence and anxieties and grab the bull by the horns to succeed.
Also, never grab a bull by its horns. They don't like that.
As the first employee of a company that's about to turn five (where has the time gone?), I'm always impressed by the amount of talent and experience we have for such a small company. I've always felt like the odd one out. I think they call it "impostor syndrome."
Terms like MOFU and TOFU might as well have been names of towns in Iceland.
Who knew? They don't teach you any of that in school! Do I need another class on the 7Ps of Marketing? Still, my potential boss to be was impressed enough to give me the job (I think it was the cologne), and four years later I'm thankful that he did.
Working at Demand Spring, surrounded by so many exceptional individuals, I've been fortunate to have worn many hats as the company has grown.
Where could I make a difference?
I've learned that, just like marketing, you can't rest on what has worked in the past. It's all about reinventing oneself while being current and precocious.
Sure, I have textbook marketing knowledge, but my colleagues have experience that they apply in meaningful ways. As such, I've become fully immersed in Salesforce, Marketo (as a Certified Expert no less!) and the associated processes and terms surrounding their application. Colleagues, customers alike, now come to me for help and advice. Achievement unlocked.
But it doesn't stop there. As a marketer, you always have to be on the lookout for new tools. Many of the tools I've suggested are now implemented, helping the team communicate better, streamline both our internal and customer facing processes, and improve productivity.
I still struggle with self-doubt but have come to realize I'm not alone.
What's important is that, as a marketer, I've learned to embrace my uncertainty and fears to power ahead, and to use them to help me grow personally and professionally and help the company succeed along the way.
Be true to yourself
Sometimes we feel the need to be two different people between our personal and professional lives. What's interesting is that my growth as a marketer has also helped me gain new perspectives in my life.
I've realized that the problem belies our true selves. Within reason, be true to yourself but don't change yourself because you're afraid of not connecting.
Like any brand or company, being yourself helps you connect with those who understand and appreciate you. Realizing this, I was able to marry it with my fast growing marketing knowledge and use it in my interactions with the team and clients to present myself in a more confident way and represent the company better.
Also, I sweat a lot less, which keeps me hydrated longer. Winning!
I've gained a significant amount of marketing experience in a short time. The pace is part and parcel of a small and growing company. One thing I've learned to appreciate is that marketing, like people, is not simple.
There's no step-by-step, one-size fits all approach to success.
Rapidly shifting technology trends and the fantastic growth of the Internet has dramatically impacted marketing strategies. And it's also changed the roles and expectations of marketers.
It can be a challenge, but through it all, one thing remains the same: it's all about communicating the best that you have to offer as a brand and a person.
Do that, and the people and things that matter the most to you will be there right by your side helping you succeed.
That for me has been the most invaluable marketing lesson of 2016. Now, about climbing that squash ladder. Don't look back!