The race is on! For the past couple of years, more and more organizations are learning to harness the power of their customer data to improve their revenue operations. These new data-centric operations are tasked with driving full-funnel accountability across the revenue engine, becoming the fundamental glue of marketing, sales, and customer success.
For organizations to be able to wield the power of their data, they have adopted new technology, either by partnerships or acquisitions. Meanwhile, slowing down tech adoption would slow down the pace of growth for these organizations, making it harder to compete with their contemporaries. So having more tools in your tech stack is better, right? Not necessarily.
Our High-Level Findings
This is the problem that most organizations are faced with right now. The common theme for both the sales and marketing tech audit is the lack of a strategic architecture that ties technology purchases and use to business-level KPIs and metrics. Utilize too many, and your tech stack can quickly bog you down. Utilize too little, and you might get left behind.
Without proper tech stack architecture, there are five potential pitfalls that can happen:
Purchases are made on an ad hoc basis to solve point-in-time problems vs. enable longer-term strategic goals.
The stack includes several best-in-class tools, but they are under-utilized due to lack of structured roll-out and training.
Users are often not aware of the technology available to them.
Integration and implementation is often rushed, leading to sub-optimal configuration.
There is a general gap in analytics, and in measuring marketing and sales success against KPIs.
Recommendations for Auditing Your Tech Stack
That being said, it will take more than just training new and current employees to use the tools in your tech stack. For your tech stack architecture to succeed, the entire organization needs to be involved:
Key leaders should establish high-level business strategy & KPIs to guide business requirements the tech stack should solve for. Keep the end goal in mind!
Make the revenue operations accountable for the tech stack and responsible for governance over architecture and implementation.
Seize opportunities for technology consolidation today and conduct a deep dive into areas where multiple tools and competing purposes exist.
Maximize your utilization and capabilities of best-in-class tools through effective onboarding, training, and documentation.
Strategically solve gaps in the current tech stack where technology or processes can meet critical business needs as the organization grows.
Your New Tech Stack Architecture
During your audit, keep in mind the purpose each tool serves to your organization. We have included a visual to help compartmentalize your tech stack to keep it well-rounded: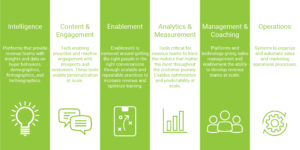 Moving forward, your organization should also construct a methodology for any further additions to the tech stack to prevent any further problems. That might include:
Developing a phased plan for scalability, utilization, and training
Determining value based on needs and requirements
Identifying support needed for implementation and operations
Establishing a baseline and metrics for defining success
If you don't want to add a tech stack audit to your to-do list, we can help! Our team can work with you to transform your tech stack into a leaner, more dynamic version of itself, and help save on costs. Learn more here.
As an integrated Revenue Marketing Consultancy, we take a holistic approach, providing innovative strategy advisory to drive pipeline and revenue results fast. If you have any questions about auditing your tech stack, or if you just want to chat marketing technology, reach out to me and I would be happy to help!