All about video
If you've read my previous posts, you know that I'm all about video. I love everything about it, from script to final cut.
Video is now the most consumed type of media on the web and has a tremendous impact on B2B marketing. Let's rewind to 10, five, or even two years ago.
The creation of moving digital pictures was expensive, difficult to govern and lacked tangible results. Sure, everyone loved the idea of having video in their marketing mix, but they consistently generated more leads using e-books and blog posts at a much lower price point.
Fast forward to today and it's safe to say the tables have turned.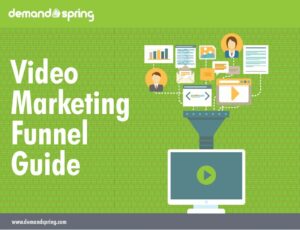 The shift
Video has officially transitioned from black sheep to staple for modern marketers and sales teams. That's right, video marketing is no longer just the animated explainer video created to generate awareness.
In the blink of an eye, video marketing  has shifted from "Hey, why don't we make a video for our homepage?" to "Let's build an engaging video strategy that will streamline our entire sales process."
But to get there, timing and delivery is everything.
For videos to fill a void and motivate your viewers to take the next step in their journey, they need to trust your brand. And to earn their trust, you need to speak their language within each stage of the funnel.
And while video is now the most impactful way to tell your story, it's important to keep in mind that a shift will occur in your viewer's expectations as they become more familiar with your product or service.
To help you start thinking strategically about video marketing, here's a quick overview of each stage within the sales funnel.
Above the funnel – At this stage videos should be produced to drive brand awareness and generate website traffic. Driving prospects to the website is critical. From there you can control their journey, rather than being at the mercy of social media algorithms. At this stage, consider videos such as culture content, event videos, how-to videos, etc. to drive interest.
Top of Funnel (TOFU) – Videos in this stage should define a common business problem, and connect viewers to a solution. At this point, your prospects are aware of your brand, and they're getting more curious about what you do. In other words, they're intrigued, but they don't quite trust you yet. To establish trust, consider providing free information in the form of blog videos, explainer videos, keynote speeches, video based infographics, video based industry reports, etc.
Middle of Funnel (MOFU) – Prospects at this stage should have a good idea of what you do and are interested in process, differentiators, and market relevancy. They want to know how your product or service can bring in value. The best way to convey impact is using demo/product videos, testimonial videos, or video case studies to prove your worth.
Bottom of Funnel (BOFU) – At this point, the prospect has come far enough to be a marketing qualified lead (MQL). They've consumed a variety of content which confirms an expressed interest in a particular business solution. Videos at this stage should show commitment to customer success, which will ultimately help the sales reps to close more deals. Let's face it, no customer wants to buy if they feel the business isn't committed to them. You can use styles such as FAQ videos, customized sales videos, pricing videos, or video promotional discounts.
Beyond the Funnel (Post-Purchase) – Sounds perplexing doesn't it? Good news is, it's quite simple, but often goes overlooked. Beyond the funnel means caring about your customers even after they buy your product or service. Seems like a no-brainer, huh? By doing so, you can remain top-of-mind to generate advocacy and retention. You can use styles such as event videos, product announcement videos, customer appreciation videos, or even show culture content from above the funnel. When buyers feel connected to the company they trust, the more likely you are to get a referral or recommendation.
The bottom line
Start thinking big picture before you dive headlong into the creative process.
You'll be happy you did because you'll discover where your content gaps lie, and how your buying process works based on persona. (We can help you with that).
What's next?
To find out how to promote, where to publish, and how to optimize your CRM and MAP to convert more leads, download our full video marketing funnel guide.