Who doesn't love a good story?
Now we all know, your company story will most likely never compete with the likes of Yoda, but (and it's a small but) it doesn't mean that you don't have a good story to tell. In fact, I bet you do.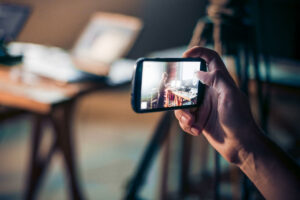 A successful long-form video is fueled by a community of users with a shared passion for their market. Successful long-form videos are engaging because they make the viewer the protagonist in the story. Without the viewers listening, agreeing, believing and supporting the story being told, you gain nothing. But if you believe you have a story to tell, you are well-positioned to add an impactful, revitalizing asset into your arsenal.
You might be thinking really? You're telling me that investing and creating a long-form video (aka documentary or a customer case story on steroids) can truly help me convert more sales?
Yes. I am.
As you'll hear in this podcast, the focus is on B2B technology companies, primarily with longer sales cycles. These companies have multiple parties involved in the buying process. In order to engage a majority of the buying team in an impactful way, think about them as characters in the bigger story you're telling. You need to make sure you have a keen sense of all the parties involved, and you need to identify how to present the story in a way that addresses their needs and challenges. A long-form video gives you the chance to address the majority of the team in one, compelling asset.
The second part of the podcast explores how to leverage long-form video to drive business. Because what good is having a stellar asset if you don't leverage it properly? A few ideas explored are how long-form video:
Provides you with higher qualified leads (especially when you're using a video analytics platform like Vidyard)
Enables a multitude of content, in the form of derivatives, for you to create and utilize throughout the buyer's journey
Recreates and refreshes your brand to drive deeper loyalty amongst your audience
If you find yourself nodding your head in agreement, then have a listen to the full Jay Baer's Convince & Convert podcast here. Your time will not be wasted. It's just over 30 minutes and the room will be filled with some rather compelling voices: Delaney Turner, formerly Content Director here at Demand Spring, as well as hosts Tyler Lessard of Vidyard and Randy Frisch of Uberflip.
Oh, and let us know what you think. We want to hear from you. Happy listening.