We have explored what it means to be a Client Catalyst and our role within the Demand Spring team. We have talked about client management and shared insights on some of the complicated topics that surround it. These are very valuable conversations, but let's hit pause for a moment and find out a little bit more about the people who fill the role of Client Catalyst at Demand Spring.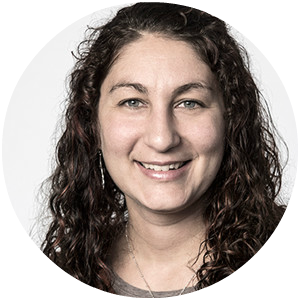 Senior Client Catalyst, Andrea Schiavone, is an expert at managing the many moving parts of our client relationships. She is also an experienced multi-tasker at home, juggling two kids under the age of three and a third furry, four-legged child named Chooch. She maintains her zen by teaching yoga and even leads virtual yoga class for the Demand Spring team that helps preserve the tranquility we aim to pass on to our clients.
I jumped at the opportunity to speak with Andrea, I was eager to learn more about who she is and hear about her experiences and methods as a Client Catalyst.
What do you love about being a Client Catalyst at Demand Spring?
Throughout my career I have realized that it is results that get me excited. Hitting the "go-button" on a marketing campaign and seeing the results come in. As a catalyst I get to experience this will many different clients in a number of different marketing channels….it's exciting.
I enjoy  leading conversations and meetings, and the catalyst role lends itself to that strength. I also enjoy understanding the details, keeping everybody on target, on  budget, and organized .
Being able to deliver results to our clients, and knowing that I had an influential position in that process, is what makes my role as a Client Catalyst exciting and interesting for me.
What is the biggest lesson you have learnt in your career?
Relationships matter. Social skills matter.
The ability to read people is key. Being able to really understand how to maneuver different personalities and how they work together is crucial. Whether that's someone that you are directly working with on a project, a client or a freelancer you are pulling in, being able to navigate those personalities and anticipate their thoughts, reactions or pains is critical, especially for a project manager.
In my opinion, great leaders and great employees have great social skills, it's that simple.
How does working remotely influence your approach to your role?
The first thing I tell people is that Demand Spring is a remote organization. It's part of our culture, we all work from home and from different cities across North America, South America and Europe.
But internally, the way we communicate and our processes, you would never know we are a remote organization. Throughout the day we are online, in meetings, internal calls, chatting with each other via our messaging platform, Slack, we feel like we are together and connected.
That internal culture definitely benefits our interactions and relationships with our clients as well. Many of our clients are also in remote locations, or spread within different office locations, so it jives.
Working remotely benefits me personally which in turn is advantageous for my clients. Demand Spring gives me the work life balance I need to feel emotionally fulfilled, motivated and happy. This affects my working hours and client interactions in a very positive way. I am motivated, focused and patient, which allows me to work more efficiently and to produce better relationships with our clients
There comes a time when difficult conversations must be had. How do you approach and lead these types of interactions?
There needs to be an internal consensus before we deliver any kind of messaging, recommendations or pricing adjustment .
When it comes to delivering news, I take the approach of being direct and upfront, in a calm, matter of fact manner. That's how I appreciate being communicated to, how I would want news delivered, so that's how I deliver news to our clients.
You can't go wrong with being open, honest, upfront and timely. As soon as I receive information, a shift in direction or change of scope, I try to deliver that information as soon as possible so I can give the client as much notice as possible.
In your opinion, what is the most important skill a Client Catalyst should have?
Awareness.
As a Client Catalyst or project manager, you need to be thinking forward at all times. You should always be a step ahead of where everyone else is in the project, anticipating what is coming next. The ability to be working at the current stage of the project yet thinking of the next stage at the same time is an indispensable skill in this type of role.
Do you have any tips for building and maintaining successful relationships?
Be yourself. Let a little humour and lightness shine through the professional exterior.
Letting your personality shine through can take time but allowing yourself to slowly soften up while maintaining professionalism humanizes and therefore strengthens the relationship.
How do you stay in-the-know about best practices and new ideas in the industry?
Firstly, I listen to my clients. Their needs are going to evolve with what is going on in the industry and they are normally very close to the forefront of where the industry is going.
I also learn a lot from our internal team. We are all reading blogs, attending webinars, watching our Twitter feeds and then sharing that information and new ideas together.