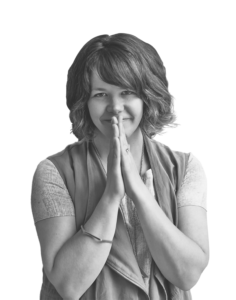 We have explored what it means to be a Client Catalyst and our role within the Demand Spring team. We have talked about client management and shared insights on some of the complicated topics that surround it. Last week we met one of Demand Spring's Senior Client Catalysts, Andrea Schiavone, so let's continue with the introductions!
Karen Morad is a Senior Client Catalyst at Demand Spring. Her passion for building great relationships and marketing expertise make Karen a knockout client catalyst. She's determined to see projects to completion. Karen is a motivating mentor, has a great sense of humor and can make one stellar cheese plate.
Why do you enjoy being a client catalyst?
The thing I enjoy most about the Client Catalyst position is the problem-solving aspect of the role. Being able to assist someone with a marketing challenge they can't solve internally is very rewarding. I like being relied on for problem solving and creative solutions.
How do your previous professional experiences influence the work you do as a Client Catalyst?
I am influenced by things every day that affect the next.
It was fortunate for me to start at a small advertising company. I had to wear many hats and that helped open my eyes to the different aspects of marketing very early on. It also reinforced what I like to do best and helped me to explore other areas of interest so I could evaluate and decide where to focus my efforts and time.
My experience working in hospitality at a Bed and Breakfast in Boston also has also supported my people management skills and on-the-spot problem solving abilities. The correlation between marketing and hospitality is very strong. Learning how to cultivate friendly yet professional relationships can be more complicated than you think. You need to be genuine and authentic without going overboard. Whether you're a host or marketing advisor, creating great experiences for guests or clients is the most important part of the job.
First and foremost, we are human. We are people first, and that is how I approach any new client relationship.
How does the Demand Spring culture influence your work?
The Demand Spring culture is incorporated into my day to day because I feel empowered to be my own person. Knowing that Demand Spring originated from the desire to create a balance between work and family helps me make decisions that also honour those intentions.
I feel very supported as a member of the Demand Spring Team. Our founder, Mark Emond, is a genuine cheerleader for each individual, he is amazing at making people feel valuable and understood. I practice this with my clients. For me, it is never just a client or a job, we are helping people succeed in their position.
How does working remotely affect your work?
It makes it better. I am more accountable. Without someone watching your every move you have the freedom to think bigger and more creatively.
How do you approach and prepare for difficult conversations?
I have been practicing for 15 years.
I am not afraid of confrontation but I need to have a substantiated story and I need to believe the story I am telling. I will often validate the story with someone else, talk through the situation and hear it out loud. Second most important thing is not to wait too long. Make the conversation happen. As soon as you say it out loud and start a discussion, the other person's perspective will often help inform the next step rather than allowing your mind to play out potential scenarios.
Make it real.
How do you keep team members motivated when a project or assignment hits a roadblock?
My advice is to keep the big picture in mind.
I get satisfaction in seeing things through to the very end, with the successful results in mind. So I try and share that spirit with my team to help realign efforts and energy.
It's also human to give someone the space to put something down, to walk away and come back tomorrow with a vengeance. There is often time wasted in making people do things "Now" or "Right away". Giving people the time and space to breath is often when it's needed is often what is best for the project.
What do you think the most important skill is for a Client Catalyst?
Communication, hands down. The right amount, to the right people, at the right time.
Vital.
What is your communication style?
Relaxed. Colloquial. I like to have conversations that don't have buzzwords. My goal is to get to a point where I am communicating with my clients in a way that is authentic and personal, where we can enjoy conversations and share information and create a relationship over the course of a project or contract.
I like to just be Karen. Normal.
Do you have any tips for building and maintaining relationships?
Try and get face-to-face time. Getting in front of clients when you can and likewise, backing off when you need to. Stay top of mind but not at the expense of ruining relationships, give people the space and time to come around. Take the time to read attitudes and responses appropriately, we can't force things to happen.
At the end of the day we are all humans and we crave relationships. Of course there will be some projects where it will be strictly professional but don't forget to enjoy the people along the way.